Last week I reached out to William Legault of the Salem Digest and asked if he would be interested in answering some questions for my website, going over food in Salem, MA. He was kind enough to accept and the following is his scoop on favorite spots on Salem, what Salem does best and more! Check out his bio at the bottom for links to his website and social media!
When you are personally choosing a restaurant in Salem to dine at, what do you look for? What makes a restaurant stand out to you?
"This depends often on the meal, meaning breakfast, lunch, or dinner and also on what type of food I am looking for. There are particular places that I go to for particular items. Every place has some things that they do very well, and most also have certain things that may not always do as well. The variable in this decision can vary each and every day. The one thing we should all look at is cleanliness, and the bathrooms are a great source to check on how much care they take in that regard."
Are there any places you have returned to again and again faithfully?
"Yes, there certainly are. My main example is Dotty & Ray's in North Salem. I started going in there because it is a spot in the neighborhood where I live. The consistency that they display day-to-day is remarkable, and since the younger generation has taken over the business they have stepped everything up to another level. Major Magleashe's on upper Washington Street has a simple menu that they execute with consistence excellence. The chili and clam chowder that you get there today, are the same chili and chowder that they were serving in 1978. Olde Main Street Pub is an example of the old becoming new again. Chef Tim Caldwell has been cooking in Salem for a long time. This is his second appearance at the same address only this time he is one of the owners. Tim is my choice to cook the last piece of red meat I will eat before I leave this life."
What types of food do you think Salem does best?
"You have to recognize that we have some of the best small Italian or Mediterranean places on the north shore. Adriatic Restaurant & Bar on Washington Street is one of the top places of any kind in the area. Bella Verona on Essex Street serves great food in the most intimate setting in the city. Firenze Trattoria, hidden away on Lynde Street is the new kid on the block and serves wonderful and creative meals. We lost Caffe Graziani last year, but these three, along with Bertini's on Canal Street are maintaining our Italian tradition."
Are there any types of food you think Salem could benefit to have more of?
"We could use some North African cuisine here and perhaps something with a hookah and cigar concept. Our smoking laws, while sensible in some ways are holding our restaurant scene back."
If someone who had never been to Salem asked you for your top three, what would they be? Any category is fine (ie: top three bars, top three breakfast spots, etc…)
"I am a huge fan of breakfast so let's go with that. First would be Dotty & Ray's for overall simple, quality food. Next would be Brother's Taverna on Derby Street for a great omelet and excellent house-made corned beef hash. Third is a tough one because there are so many good spots, but Sundays at O'Neill's of Salem on Washington Street for the Irish Breakfast and Make Your Own Bloody Mary bar is one of the best secrets in downtown Salem."
If you were only allowed one more meal and it had to be at a restaurant in Salem, what would you have to have?
"I already answered this. Chef Caldwell at Olde Main Street Pub would be tasked with grilling me a bone-in Porterhouse. I would ask for a side of his Barrence Whitfield Cheese Grits, a baked potato and prosciutto wrapped fresh, al dente asparagus and a cold Rauchbier from Notch."
Best suggestion for a family who needs a budget friendly option?
"Celia's Dominican Restaurant on Congress Street. They may be a simple cafeteria style spot, but they feature a large variety of fresh options and generous portions, all at affordable prices. Of course, a trip to the Salem Willows in the summer time is also a good choice."
Favorite pop up style restaurant/food? (ie: Jaju Pierogi, Goodnight Fatty, Speakeasy Donuts, etc.)
"That's a tough call because they are all so good. But, I choose 3 Kitchen's Catering and would ask for the Smokin' Betty's BBQ option."
Thanks so much again to William Legault and the Salem Digest for taking the time to chat with me! 🙂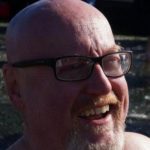 William Legault is an Old Salem/New Salem who has been known to natter on, sometimes on and on regarding all things Salem.
The Salem Digest
Salem Digest on Facebook
Salem Food Digest on Facebook