Please note this blog post may include affiliate links. To read more about this, click here.
Airbnb has become a very popular alternative to staying in a hotel, as we all know. As of the publish date of this blog post, Airbnb reports that there are 660,000+ listings just in the United States! So how can you narrow that down if you're looking for one in Salem? Today on the blog I want to go over how to pick an Airbnb in Salem, MA.
First, narrow down your search
The first thing I always narrow down are the search parameters once Airbnb is showing me properties. I don't know about you guys, but I am not super comfortable staying in a property that shares space or amenities with the rest of the house. I want the entire place to myself. Therefore, I always check that option at the top right away.
Location, location
Next, try to roughly determine the area the property is located in. Salem is largely very walkable, however you should still try to get a rough idea. The listing won't give you an address of course, this is for safety reasons. However the host will often give you some nearby landmarks or will sometimes indicate an area by saying things like "minutes from the Salem Witch Museum" or "located near the historic Derby waterfront district". Look for these clues and check out what area that is on a map of Salem.
Parking in Salem
Parking in Salem can be quite a headache certain times of the year so pay attention to this information in the listing. Some hosts will provide you with a visitor parking pass that allows you to park your car on the streets. Others will indicate nearby garages you can use. Make a note of this if you're driving your car into Salem.
Related: Which Salem, MA hotels have parking? ; Parking in Salem, MA — Five quick tips if you're taking the car
Read the entire listing, of course
This one should be obvious – read the entire listing in full. What is the cancellation policy? What are the house rules and requirements? Are pets allowed to stay there, even if you're not bringing one? Does this location allow guests to smoke in the property? If someone posted a negative review, did the host respond and address the issue? Are there current reviews from people who have stayed there recently? Pay attention to all of the fine details and comments made by people who have been to this Airbnb.
Compare pricing to Salem's hotels
Do a quick google search and compare the Airbnb you're considering booking to the hotels nearby. Making an educated decision is always best. Oh and just to say it a million and one times: BOOK EARLY. This especially applies to the fall. Hotels, Airbnb locations and more fill up fast.
There is something for everyone
Salem is home to a few themed Airbnb locations or ones that offer spooky extras. Two examples of these types of properties to get you started are as follows. Click the image to be brought to that listing.
This Airbnb is Harry Potter themed for my fellow Potterheads!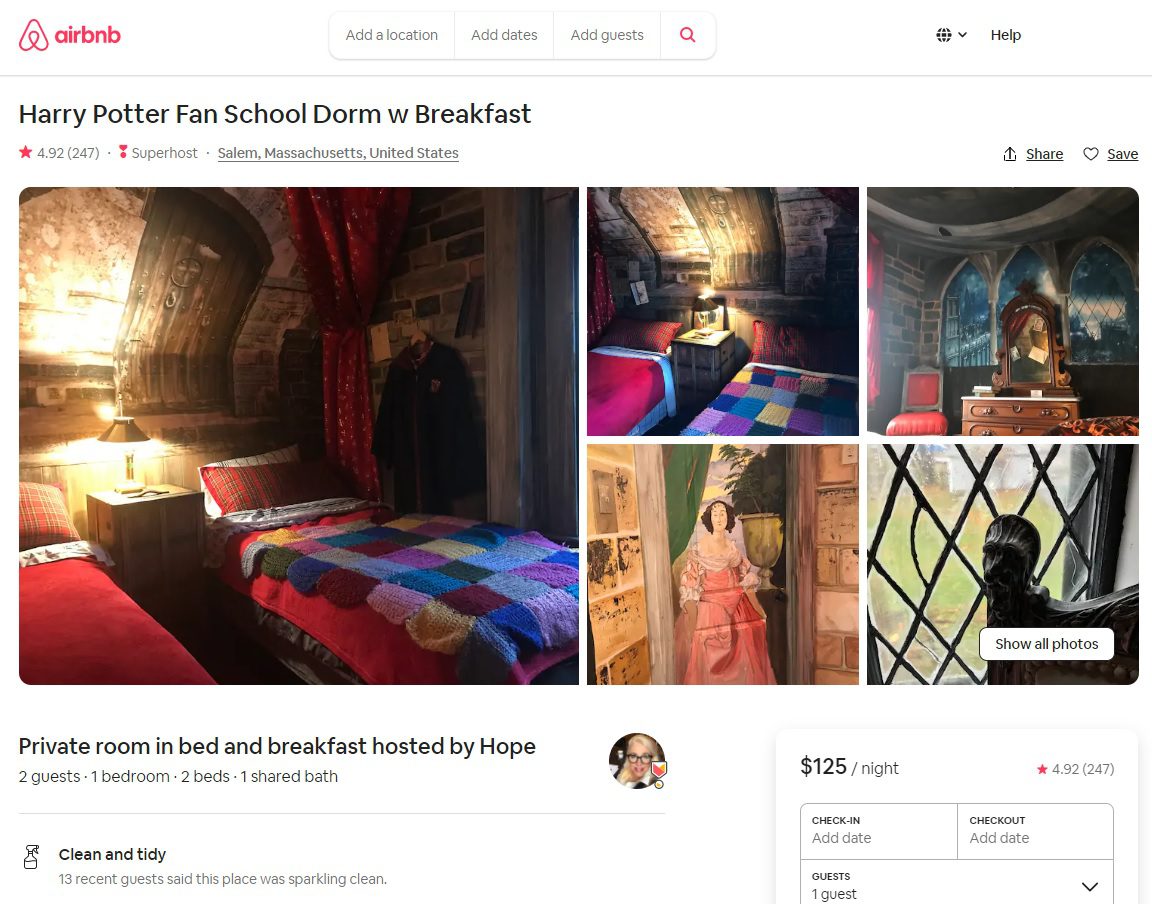 This Airbnb is located above Crow Haven Corner, one of Salem's oldest witch shops. You will also be invited to participate in a ritual with Lorelei, one of the owners.
If you have an issue with your Airbnb
Last, but not least…what if you have an issue with your Airbnb location once you get there? First, contact your host right away. Take pictures to support your claim and have those on hand if you need them. You can also get Airbnb involved if the issue is severe by reporting a listing or selecting the "help" option in the app.
Do you need some help planning the logistics?
If you need help sorting out the details of your visit, check out my workbook! It is a downloadable PDF that goes over planning out all of the logistics of coming to Salem.
(Psst – For a discount on my workbook, sign up for my newsletter!)
Good luck! I hope this helped give you some guidance to get your journey started. Have fun and enjoy!! <3
Recommended reading | You might also like…

Pin for later